Spring promotion

For the exclusive circle of Saab 9-5 Turbo4 and Turbo6 owners
Hirsch Performance now offers two new package deals with an unbeatable price-performance ratio. Don't miss this unique chance to make your vehicle even more sporty and exclusive!
01.
9-5 Touring Package
The package includes:
- Performance upgrade
- Stainless steel quad exhaust including diffuser
- Rear spoiler
The performance upgrade to 330 hp/430 Nm (Turbo6) and 260 hp/400 Nm (Turbo4) gives the driving experience a significant boost. True to Saab's "responsible performance" claim, the Hirsch Performance upgrades are certified to the same emissions levels as the original car; Euro5 / CARB BinIILEV.
The Hirsch Performance stainless steel quad exhaust delivers a refined sound, with a character that alters from a sporty roar at full throttle to a sonourous sound during relaxed cruising, without ever becoming annoyingly loud. All exhaust components are flow-optimized to minimize pressure loss, improving the throttle response of the engine.
To top off the sporty look created by the brushed stainless steel exhaust bezels and the rear diffuser, this package also contains a rear spoiler. The deliberately subtle design still provides an effective reduction of unwanted lift on the rear axle, providing improved stability, especially at high speeds.
This package contains a highly attractive combination of parts at a price comparable with that of just the exhaust. Only a limited number of kits are available.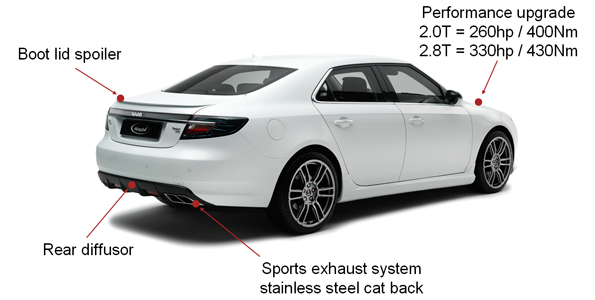 More details
|
Go to top
02.
9-5 Performance Package
The Performance Package includes:
- Performance upgrade
- Complete aerodynamics package including side skirts, front and rear spoiler
- Stainless steel quad exhaust including diffusor
- Lowering kit (Turbo6 only)
- Forged rims, 9x20"
This package embodies the essence of the development work that Hirsch Performance has performed for the new Saab 9-5. The performance upgrades to 330 hp/430 Nm (Turbo6) and 260 hp/400 Nm (Turbo4) form the base also for this package.
To further improve the already exhilarating driving dynamics of the 9-5, the sportier spring setting lowers the car by 20 mm on the front and 10 mm on the rear axle, and is especially tuned to match the active suspension (DriveSense) perfectly. The lower center of gravity improves cornering stability and offers improved braking performance. The sports suspension is available for Turbo6 cars only.
The forged 9x20" aluminium wheels in exclusive Liquid Titanium finish are extremely light at only 11 kgs, further enchancing handling.
Consisting of a front spoiler featuring an optimized air intake for improved cooling, side sills, a rear diffusor and a slender bootlid spoiler, the aerodynamics package adds a sporty look to the 9-5 while maintaining the characteristic look of the original design. Careful wind tunnel optimizing lead to impressive results: combined with the lowering kit the aerodynamic drag decreases by almost 5 percent. In addition to that, the lift is reduced by 70% on the front axle and 40% on the rear axle, leading to a significant improvement in high speed stability.
This package is completed by the stainless steel sports exhaust, which is accentuated by brushed stainless steel quad exhaust bezels that are both sporty and elegant.
Since the Performance version never entered regular production, a total of only 10 sets were produced, out of which 5 still are available. Seize the chance now to own one of only ten Saab 9-5 Hirsch Performance in the world.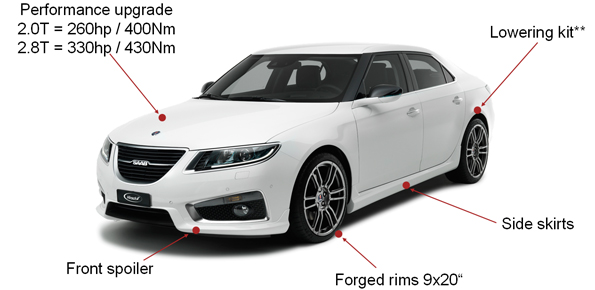 The offers are valid only as long as stocks last. The special offers can not be combined with other price reductions.
** Turbo 6 only

More details
|
Go to top
03.
Hirsch Performance parts ordering
To make ordering of Hirsch Performance parts more convenient and cost-efficient, part orders can now be placed by any and all authorized Saab dealerships and service points in their regular Saab Parts AB ordering system in the following markets:
UK
Ireland
Portugal
Sweden
Denmark
Norway
Finland
(For all other markets, orders continue to be made from the authorized Saab dealership or importer directly to Hirsch Performance.)
The Hirsch Performance parts are shipped to all markets listed above via Saab Parts' central warehouse in Nyköping, Sweden, but are stocked in Hirsch Performance' warehouse in Switzerland. Because of this, the national ordering systems will sometimes list some or all Hirsch Performance parts as being on back-order, despite actually being in stock, ready for immediate delivery.
To enquire if a part is available in stock, please send a request to logistics@hirsch-performance.ch
If you as a customer or dealership are experiencing difficulties with the ordering system, please feel free to contact us at Hirsch Performance for assistance at any time.
Email: info@hirsch-performance.ch
Phone: +41712742228

Go to top